Description
This self-paced mini-course on Time Traveling with Resonance contains thirteen lessons of video, worksheets and more, where Sarah walks you through how to do first aid for trauma memories who come into your brain without consent. We will move through all the stages of the healing with resonance journey, so you can learn how to rescue your former self from painful experiences and bring more choice into how you'd like to relate to painful experiences of the past.
What You'll Learn:
How to identify a traumatic intrusive memory
How to decide who will accompany you in your time-travel rescue
Identifying your Resonating Self-Witness (the part of you that loves and understands yourself) and deciding what role this part has in the rescue
How (and why) to get consent from your past self who is traumatized
How (and why) to step through time and space to arrive back in time with yourself
How to introduce your RSW to your past self, and how to speak to them with resonant language
How to invite your Past Self to leave the memory and come home with you
Take a Look Inside:
Lesson 1: Introduction to Time Traveling with Resonance: This lesson introduces us to the full process of time traveling with resonance, and produves the handouts for easy use through the course.
Lesson 2: Are You Having an Intrusive Memory? This lesson helps us discern whether we are having an intrusive trauma memory, or whether we have lived through a difficult event. The answer directs us toward our next step in the time travel process.
Lesson 3: Collecting Your Resonating Self Witness: This lesson helps us identify and bring along our RSW
Lesson 4: Do I Have Consent? This lesson helps us ascertain whether we have consent of our past self to come and visit, and if not, how to establish more trust in order to negotiate consent
Lesson 5:  Learning to Freeze the Trauma: This lesson goes over multiple strategies for providing safety for the past self within the trauma, and how to engage the resonating self witeness for added safety.
Lesson 6: Bridging the Past and Present: Lesson 6 helps us introduce the resonating self witness to our past self, and establish connection and resonance to prepare for the next movement.
Lesson 7:  Attuning to the Past Self: In this lesson we learn how to determine whether there is shock in the past self, and we practice attuning in order to strengthen the sense of safety for the little one who has experienced the trauma
Lesson 8: Resonant Dialogue: Here we learn how to initiate a resonant language dialogue with the past self, and begin to understand how and why this step is critical for establishing accompaniment
Lesson 9: Resonance and Relaxation: This lesson connects the dots between the language we use and relaxation of the past self. Establishing ways to provide relaxation for the traumatized self is key to continuing to establish safety.
Lesson 10: The Invitation Home: Now we begin to learn how to bring the past self into the present, beginning to move the traumatic memory from the amygdala into the time-stamped hippocampus
Lesson 11: Accepting the Invitation: Here we learn how to navigate the nuanced and embodied discernment process to determine whether the past self is ready to accept the invitation home
Lesson 12: Welcome Home: Finally we welcome the past self into the present with warm embrace.
Lesson 13: Completion: Here Sarah provides some final notes about the Time travel process.
How to Send this as a Gift:
After you add the product to your cart, proceed to the check out page. On the check-out page, fill in the gift recipient's address under "Ship to a Different Address", and include what you'd like the book inscription to say. Then select "Purchase as a Gift" and enter the gift recipient's name, email and a little note: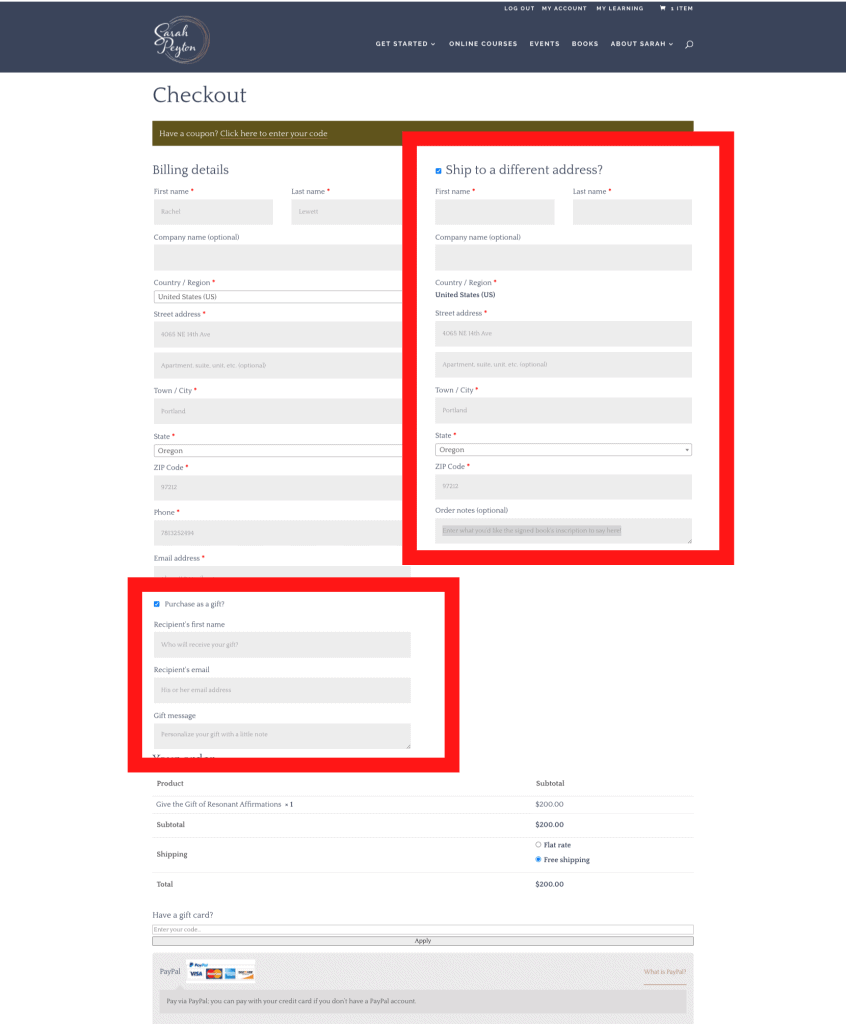 The gift recipient will receive 2 emails, one that alerts them that you've sent a gift, another that gives them log-in credentials to access their courses on SarahPeyton.com.