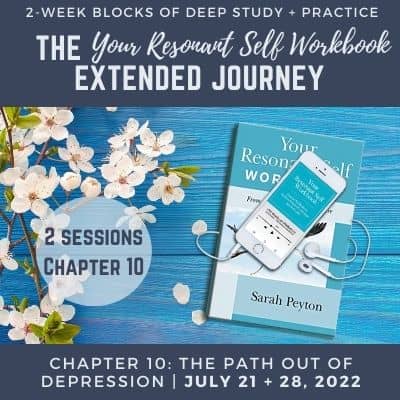 Your Resonant Self Workbook: Chapter 10 – Finding the Path out of Depression
July 21, 2022 @ 10:30 am

-

July 28, 2022 @ 12:00 pm

PDT

Cost: $70
Contracts that limit our life energy can lead to hopelessness and depression. When they are combined with negative self-talk, they can be toxic. Another facet of depression is hyperactivation of the anterior cingulate, which may have a contract to carry the pain of self and of the entire world. The release of these contracts in these two classes supports the reclamation of movement and agency. Both contract work and resonance skills are needed in this life-changing work. We also take a look at the attachment contracts that can prevent connection in order to support a movement away from the life-long loneliness that can also be a contributing factor in depression.
Join Sarah for two weeks, on July 21 and 28, 2022, 10:30am-12:00pm Pacific Time. Part of an extended journey into Your Resonant Self Workbook, diving deep into chapter 10.
This class meets via zoom
Purchase includes an invitation to two live classes, and event access to download the recording and any materials.
$70
These sessions are recorded for those in all timezones
This work is not therapy and is not a substitute for therapy. If you have a sense that you would be destabilized by yourself or others speaking about difficult events, then this course may not be for you. While we hope that the processes and information that we share can be of use in your journey, we do not have the resources to support extreme psychological difficulties.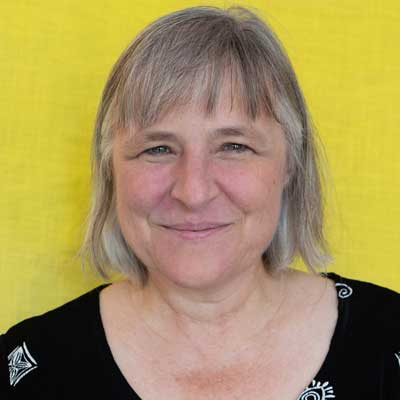 Sarah Peyton, Certified Trainer of Nonviolent Communication and neuroscience educator, integrates brain science and the use of resonant language to heal personal and collective trauma with exquisite gentleness.
Sarah is a sought-after expert who brings neuroscience expertise together with depth work, self-compassion, and the transformative potential of language. She works with audiences internationally to create a compassionate understanding of the effects of relational trauma on the brain, and teaches people how words change and heal us.
Sarah teaches and lectures internationally and is the author of four books on relational neuroscience and self-compassion: Your Resonant Self: Guided Meditations and Exercises to Engage Your Brain's Capacity for Healing, the companion Your Resonant Self Workbook: From Self-sabotage to Self-care, and Affirmations for Turbulent Times: Resonant Words to Soothe Body and Mind, and The Antiracist Heart: A Self-Compassion and Activism Handbook, co-authored alongside Roxy Manning, PhD.