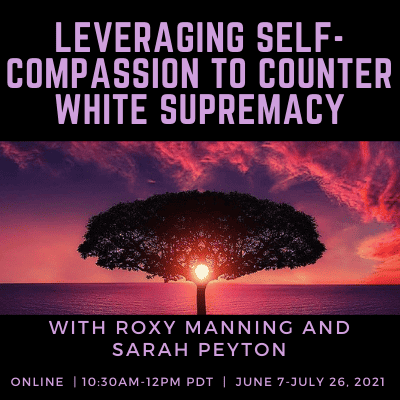 Leveraging Self-Compassion to Counter White Supremacy with Roxy Manning and Sarah Peyton
June 7, 2021 @ 10:30 am

-

July 27, 2021 @ 6:00 pm

PDT

Cost: Sliding Scale
How can we begin to heal and transform the impacts of a white supremacist culture? What tools can we develop that help us to take an honest look at the complexity and heartbreak while supporting true accountability and change?
This 8-week class offers participants a chance to explore how self-compassion can bolster the movement towards antiracist consciousness and practices in an intertwined learning experience.
Systemic racism robs everyone's life energy and takes away everyone's well-being. Black, Indigenous, and People of Color (BIPOC) have centuries of exhaustion from layer upon layer of the horror that systemic racism and white supremacy have encoded in our human bodies. White folks have to find a way forward through the layers of responsibility, denial, shame, and unforgiveability of what has happened. BIPOC folks face deep challenges as they confront their own internalized oppression that can lead them to enact the same harm on others that they themselves have experienced. White people begin to grieve the loss of identity, culture, and traditional wisdom that was stripped away in order to create the caste system upon which white supremacy theory is built. How can self-compassion help all of us? How can it help us learn, how can it help us integrate, how can it help exhaustion, and how can it support our antiracist activism?
Participants will integrate:
Developing a grounded understanding of personal and systemic responsibility

The role of self-compassion in connecting us with ourselves and with others in a world rife with conflict and chaos.

Antiracist principles

Neuroscience concepts connected with implicit biases

Engagement of brain structures involved in self-compassion

Skills and coaching in response to microaggressions  
Where do we meet?
The course will meet via online video conference (zoom). This program will be recorded for participants in various zones.
When?
This course will meet for 8 sessions on Mondays from 10:30am – 12:00pm Pacific time, June 7- July 26, 2021 (To convert to your time, please click here)
June 7
June 14
June 21
June 28
July 5
July 12
July 19
July 26
Who is this event for?
For nonviolent communication beginners and long-time practitioners, all are welcome
Folks wanting to move toward antiracist consciousness
People wanting to transform the impacts of systemic racism both inside and out
For those longing for side-by-side practice with each other in community.
Bonus
8 bonus 1-hour group coaching calls with Sarah Peyton to explore the interplay of unconscious contracts and self-compassion in antiracism
These calls will take place Tuesday evenings from 5:30-6:30pm PT June 8, June 15, June 22, June 29, July 6, July 13, July 20, and July 27
(To convert to your time, please click here)
More on Roxy Manning and Sarah Peyton
Roxy Manning and Sarah Peyton are excited to team up for this collaboration. Sarah Peyton brings the lens of the convergence of neuroscience, personal transformation, and systemic trauma and Roxy Manning brings a commitment to addressing systemic inequities with fierceness and care in order to create change without replicating trauma and injustice. 
PLEASE NOTE:
Your tuition payment is non-refundable and transferable.  
This work is not therapy and is not a substitute for therapy. If you have a sense that you would be destabilized by others speaking about difficult events, it would be better not to register for this program.
Sliding Scale Tuition Options
We are offering 5 tuition options:
Participant Tuition – Support those with fewer resources to attend – $500
Participant Tuition – Support trainers' sustainability – $400
Participant Tuition – Requested standard contribution – $300
Participant Tuition – Discounted rate – $200
Participant Tuition – Scholarship rate – $100
This work is not therapy and is not a substitute for therapy.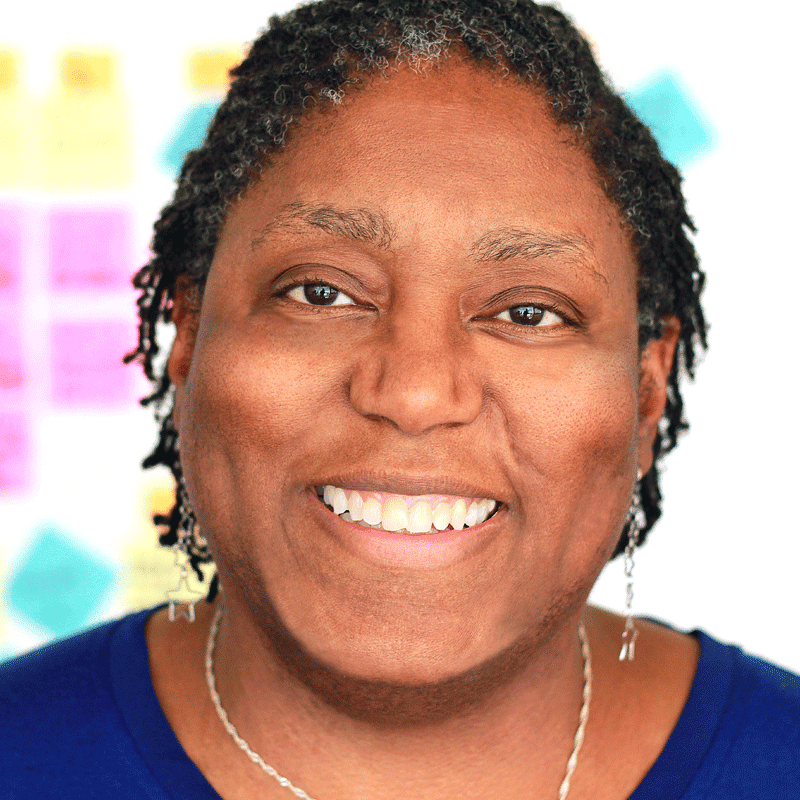 Roxy Manning's
life experience as an Afro-Caribbean immigrant combined with her academic training and professional work as a licensed clinical psychologist and CNVC Certified Trainer have cultivated a deep passion in her for work that supports social change at the personal, interpersonal, and systemic levels.
Roxy is excited whenever she is helping opposing voices hear each other and see past individual hurt and struggles to the structures that contribute to those challenges. Read Roxy's articles at her website.
http://www.roxannemanning.com/
​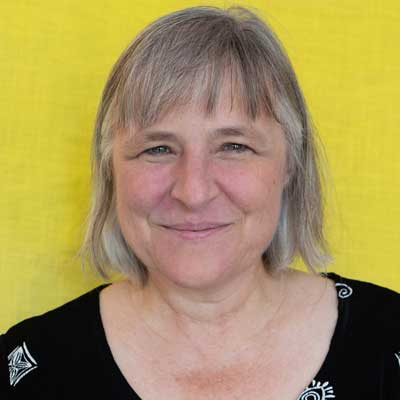 Sarah Peyton, CNVC Certified Trainer, author and neuroscience educator offers trainings focused on learning and using resonant language to transform the brain and heal trauma with exquisite gentleness and self-warmth. Sarah speaks about both the personal and the systemic forces that lead to traumatization. She has a particular interest in the way human brains respond to power differentials and microaggressions, the social trauma that can result, and how to use resonant healing to support people in restoring dignity and reclaiming their full power. 
Sarah teaches and lectures internationally and is the author of three books: Your Resonant Self: Guided Meditations and Exercises to Engage Your Brain's Capacity for Healing, the companion Your Resonant Self Workbook: From Self-sabotage to Self-care, and Affirmations for Turbulent Times: Resonant Words to Soothe Body and Mind (scheduled for release in Winter, 2021).