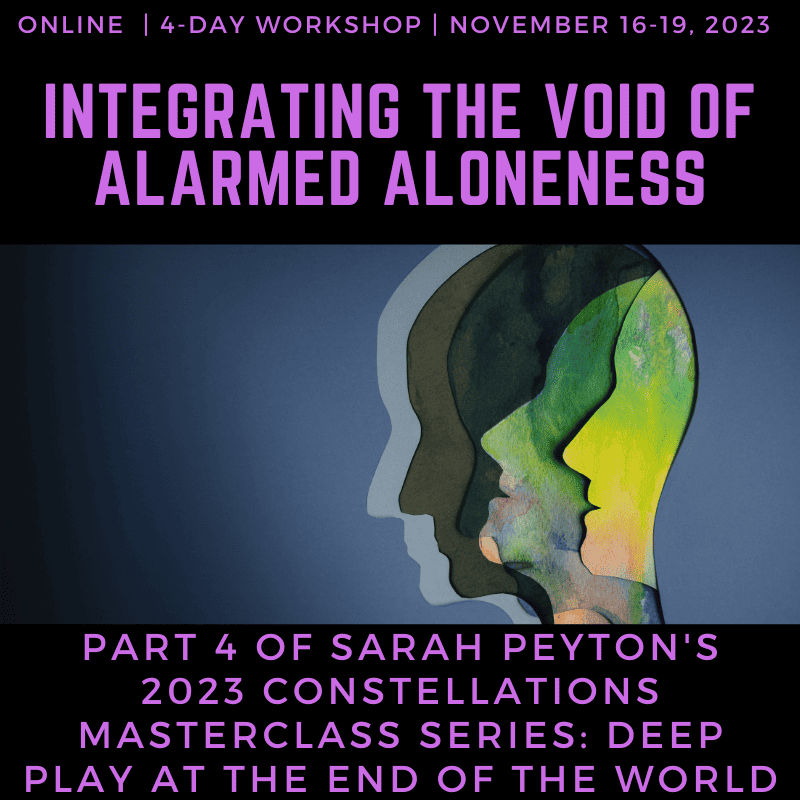 Integrating the Void of Alarmed Aloneness: Constellation Masterclass with Sarah Peyton
November 16 @ 9:00 am

-

November 19 @ 3:00 pm

PST

Cost: $900 – $1100
How do we constellate and support healing from alarmed aloneness (the shock and grief that arise when someone important to us disappears, or when we find ourselves too alone in our lives)? How is alarmed aloneness connected with our clients' sense of the Void – the deep unknown that is part of the implicit of every human? What are the roles of Play and Joy in embracing the universal human experiences of loneliness and separation? How do we let constellations guide us into the paradox of being apart and coming together? Neuroscience and Panksepp's Circuit of Emotion and Motivation will play a role in leveraging constellations to support clients who bring questions of aloneness to us for healing.
This is part 4 of a 4-part constellation masterclass series: Deep Play at the End of the World. This year's masterclass series will explore how we can leverage our constellation work for healing at a time of immense complexity where we and our clients face intense stressors from climate crisis to pandemic to political issues. How can our constellation work allow for more joy, more wonder, more play and more life satisfaction, even in the face of grief and threat? Join Sarah Peyton for this exploration of what neuroscience and constellations can do for us.
You are welcome to register for any of the four individual events in the 4-part series, however, registering for the full 4-Part Immersion might be a good fit if you'd like to learn to use constellations in your work or your life, as well as receive access to the bonus and savings.
When?
The schedule will be as follows (All times are in the Pacific Time zone. To convert to your time, please click here)
November 16: Thursday, 9am-12pm, 1pm-3pm
November 17: Friday, 9am-12pm, 1pm-3pm
November 18: Saturday, 9am-12pm, 1pm-3pm
November 19: Sunday, 9am-12pm, 1pm-3pm
What to Expect:
Each day we alternate between short lectures on neuroscience and constellation concepts with mini-constellations to explore and practice the concepts, and then we do large group constellations. If you're a visual learner you can imagine small islands of didactic learning, surrounded by slightly larger islands of small-group learning, and then interspersed with large, full-group constellations.   Small group work will be done in small groups or dyads via breakout groups on zoom.
Constellations facilitated by Sarah will alternate with Constellations facilitated by Masterclass participants, interspersed with large and small group learning. Both being a facilitator and being a seeker happen by lottery. Only participants who have attended other master series sessions with Sarah will be eligible to be facilitators. Not all participants will have a chance to be a seeker or a facilitator. 
Over this 4-day immersion week participants will:
Learn the interrelationship of the Circuits of Emotion and Motivation and how alarmed aloneness can be exacerbated and helped by the interactions of the different circuits
Take away a sense of a path toward accompaniment of our own deepest loneliness's, which then helps us to accompany and support our clients
Expand the use of unconscious contracts to provide openings for healing for experiences of grief, shame, and experiences of abandonment
Who is this Class for:
These sessions are intended for people who are interested in learning about facilitating constellations and how constellation work transforms and heals. Both experienced and new facilitators are welcome. Student facilitators will have opportunities for supervision and support from Sarah Peyton. Sessions are not intended for personal work for participants, however, sometimes, personal growth and transformation happen coincidently, but it isn't the main focus of the offerings in the masterclass series.
How much?
Early bird rate $900 if paid by November 3, 2023
Regular price $1100 if paid after November 3, 2023
PLEASE NOTE:
In order to secure the early-bird rates, you must register and pay by the dates above.
Your tuition payment is non-refundable and transferrable.
Deadline to sign up: November 16, 2023.
This work is not therapy and is not a substitute for therapy. If you have a sense that you would be destabilized by yourself or others speaking about difficult events, then this course may not be for you. While we hope that the processes and information that we share can be of use in your journey, we do not have the resources to support extreme psychological difficulties..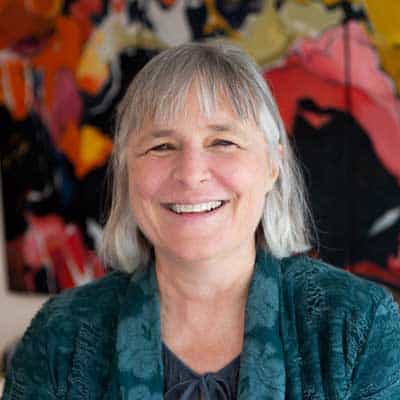 Sarah Peyton, international constellations facilitator, Certified Trainer of Nonviolent Communication and neuroscience educator, integrates constellations, brain science and the use of resonant language to heal personal and collective trauma.
Sarah teaches and lectures internationally, is a regular contributor to The Knowing Field International Constellations Journal and has authored chapters in Stephan Hausner's Salutogene Aufstellungen and Francesca Mason Boring's The Nature Constellations Handbook: An Invitation to Connection: Re-Membering Nature in Systems.
Sarah is a regularly featured keynote speaker for international constellation events including ISCA and NASCA and is the author of four books on relational neuroscience and self-compassion: Your Resonant Self: Guided Meditations and Exercises to Engage Your Brain's Capacity for Healing, the companion Your Resonant Self Workbook: From Self-sabotage to Self-care, Affirmations for Turbulent Times: Resonant Words to Soothe Body and Mind, and The Antiracist Heart: A Self-Compassion and Activism Handbook, co-authored alongside Roxy Manning, PhD.