Tending to Trauma with Resonance: a 4-Session Mini-course
Intrusive memories from past pains invade our present moment. Learning to accompany ourselves and others with warmth is the key to healing trauma.
Any memory with charge is not in the past; it becomes part of our present. How do we hold space for others when trauma arises?
What do we do when we realize that the past is spilling into the present, with ourselves or with others?
What do we do as empathy buddies and partners and therapeutic holders of space? How do we recognize that the past is intruding?
How do we invite connection even in difficult moments in session and how do we notice that things are bigger than we can easily hold? And what do we do then?
This course is specifically geared for space-holders, those who would like to practice and receive support as supportive practitioners to have solid ground when trauma arises for those you are holding space for.
Because the brain cannot distinguish between this difficult moment and past moments of aloneness, trauma is intruding in our lives much more than we realize.
It intrudes as reactivity, as blindness, as unsoothable upset, as disgust, as horror, as terror, and as resignation and burnout.
This course includes 6 hours of exploration and learning about the neuroscience of resonance and how to heal from trauma, especially for those who are space-holders of any kind. 
The course includes recorded videos, handouts and worksheets, pre-recorded as a live online course that is now available for you to move through at your own pace.
What You'll Learn in this 4-session Course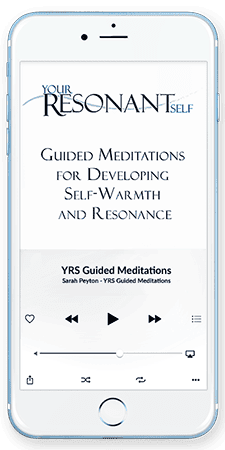 The importance of accompaniment, and how to discern reassurance from resonance
How to use a time-travel process to make empathy guesses for your younger self
How to translate habits of reassurance into new capacities for learning to acknowledge and give warmth for what is true, instead of trying to change our and others feelings
How to practice these skills in a client/practitioner capacity, when we are holding space for others who are experiencing the impacts of trauma
Understanding the difference between left and right hemispheres, and how to discern when we or our clients have "shifted left" and what to do about it
How to expand your window of welcome for challenging emotions in self and others
Take a Look Inside the Course
Structure of Each Session:
Each meeting includes slides and introduction to the neuroscience concepts, questions from participants who were there during the live course, a demo of the practice
Some sessions include a live example lead by Sarah Peyton while participants did their own practice, and time for a debrief.
The longer sessions include demonstration of processes and more time for questions, small group exercises, and integration
Who this Course is For:
This course is specifically geared for space-holders, those who would like to practice and receive support as NVC (and Resonant Language) practitioners to have solid ground when trauma arises for those you are holding space for.
This series is also useful for relating to our loved ones, our partners and families and friends, as well as trauma that arises in activist movement spaces, or any other place where trauma and distress arise.
Session 1: The Neuroscience Basics
Understanding time, the brain and trauma, including implicit vs explicit memory
The Importance of accompaniment
Understanding self- and other-regulation
Practices from this session include discerning reassurance from resonance, and learning how to make empathy guesses out of reassurance
Session 2: Time-traveling
Learn the Time Travel Empathy Process
Includes the neuroscience of memory and the difference between the hippocampus and the amygdala
Demos with past participants showing how to support others and self in the time-travel process
Session 3: The Hemispheres
Learn the difference between the "being" hemisphere (right) and the "doing" hemisphere (left)
Learn to discern "left-shifts" which leads into binary thinking, right/wrong thinking, and instrumental instead of relational solutions
Practices from this session include experimenting with resonant language and discerning left shifts
Session 4: Window of Tolerance
Learn about the concept in poly-vagal theory of the window of tolerance, and why certain types of emotional experiences exceed our window of welcome
Learn how to track your own body sensations as you support your friends/clients/loved ones
Learn to notice when you're reaching your own capacity for staying relational, and how to expand your window of welcome for other's distress, even when it touches on your own difficult experiences
What People Love about Studying with Sarah
We can only heal what is in our conscious awareness, and there's a limit to what we can access of ourselves on our own. Working with Sarah for the past five years have been unspeakably transformational for me in my own healing and in my counseling work, allowing me to understand that we are always in constellations, past and present, and that learning to attune to those unfolding constellations gives us more power and choice in our lives.
Sarah's style is gentle and caring to my nervous system, so that when we get to the deep trauma and the scary parts that do not live on the surface, I feel a sense of profound trust. She brings kindness to her understanding of social neuroscience, so I know that she will hold me with warmth as I unwind and make sense of my family history.
I have truly taken my brain back through my work with Sarah, and I am better at distinguishing between the trauma I experienced and who I am truly aspiring to be. I can also recognize in others if they are the one talking or if it is a person from their past.
I have still more work to do to heal my brain but now I have tools I can use to bring closure to any heartache that may emerge through this life.
Intrusive memories from past pains invade our present moment. How do we hold space for others when trauma arises? This 4-session course is especially made for practitioners, space-holders, parents and partners to have solid ground and an understanding of neuroscience when trauma arises. We will practice un-learning the tendency to try to "fix" and instead to learn how (and why) to lean into resonance.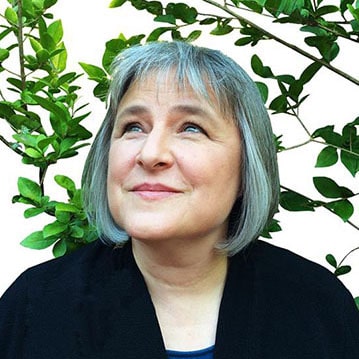 When I first began facilitating and holding space for others, I noticed my tendency to want to "fix" or reassure the person that they would be ok. It is so deep!
As parents, space-holders, friends, partners, we so often long to ease the pain of our people, and we learn reassurance as a strategy to do so.
But reassurance doesn't change brains, resonance does. It is difficult to stay in our relational brain, where resonance is possible, when we hit the limits of our own windows of tolerance.
I'm here today to share what I've learned about how to expand our window of welcome so that we may hold our people, clients or otherwise, with deep care and togetherness instead of trying to change or fix them.
Our brains are capable of building new neural fibers to help self-regulate our emotions and awaken our bodies as sites of safety and security. Resonance heals.
Sign Me Up!
Ready to dive in? You'll get immediate access to the course once you enroll. We hope to see you inside!