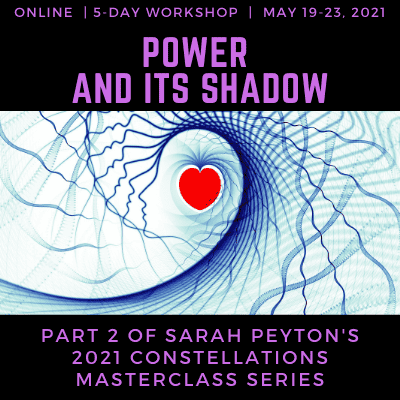 Power and its Shadow
May 19, 2021 @ 3:00 pm

-

May 23, 2021 @ 12:00 pm

PDT

Cost: $800
In this session, we will take a look at many aspects of power as they appear in constellation work and in life: the relational neuroscience of power; how we surrender it, how we claim it, how we misuse it; and how we come to peace with it.
Constellations are a way of unwinding and unraveling the frozen strands of trauma and buried nervous-system vows from our essential beings, so that we can flourish, live, and contribute our gifts with ease.
This is part 2 of a 3-part constellation masterclass series. This year's masterclass series will explore how we work with and experience our own power, which includes how we enact boundaries (or don't!), where and why we transgress our own and other people's boundaries, and how hidden or unwelcome parts of ourselves (our shadow) impacts our capacity to relate to self and other with full welcome, choice, and wellness.  Join Sarah Peyton for this exploration of what neuroscience and constellations can do for us.
You are welcome to register for any of the three individual events in the 3-part series, however, registering for the full 3-Part Immersion might be a good fit if you'd like to learn to use constellations in your work or your life, as well as receive access to the bonus and savings.
Where?
The course will meet via online (zoom video conference). Recordings will be made available.
When?
The schedule will be as follows (All times are in the Pacific Time zone. To convert to your time, please click here)
May 19: Wednesday, 3pm-6pm
May 20: Thursday, 9am-12pm, 1pm-3pm
May 21: Friday, 9am-12pm, 1pm-3pm
May 22: Saturday, 9am-12pm, 1pm-3pm
May 23: Sunday, 9am-12pm
What to Expect:
Each day we alternate between short lectures on neuroscience and constellation concepts with mini-constellations to explore and practice the concepts, and then we do large group constellations. If you're a visual learner you can imagine small islands of didactic learning, surrounded by slightly larger islands of small-group learning, and then interspersed with large, full-group constellations.   Small group work will be done in small groups or dyads via breakout groups on zoom.
The large group constellations are alternately run by Sarah and by student constellators (participants in the masterclass series) with Sarah's support. Both being a facilitator and being a seeker happen by lottery, with weight given to the number of sessions attended, thus not all participants will have a chance to be a seeker or a facilitator.
This 5-day immersion week will cover the following topics:
Use constellation work to support the right use of power
Understand the role of the circuits in claiming life serving power
How much?
$800 if paid by May 19, 2021
PLEASE NOTE:
In order to secure the early-bird rates, you must register and pay by the dates above.
Your tuition payment is non-refundable and transferrable.
This work is not therapy and is not a substitute for therapy. If you have a sense that you would be destabilized by others speaking about difficult events or hearing other's difficulties in relationship, it would be better not to register for this program.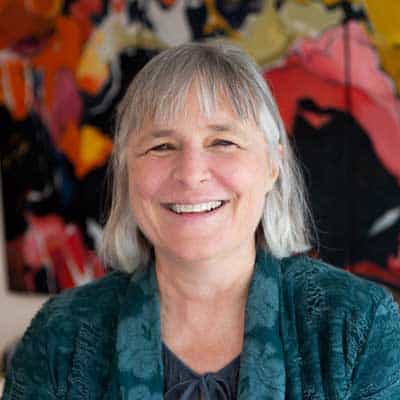 Sarah Peyton, international constellations facilitator, Certified Trainer of Nonviolent Communication and neuroscience educator, integrates constellations, brain science and the use of resonant language to heal trauma. She teaches and lectures internationally, is a regular contributor to The Knowing Field International Constellations Journal, was the author of a chapter for Stephan Hausner's 2014 book Salutogene Aufstellungen, and is an annual guest speaker and teacher at the Bernried Intensive in Southern Germany. She was a featured presenter at London's 2017 Trauma Through the Systemic Constellation Lens and is the author of the book "Your Resonant Self: Guided Meditations and Exercises to Engage Your Brain's Capacity for Healing," published by Norton Publishing in September of 2017