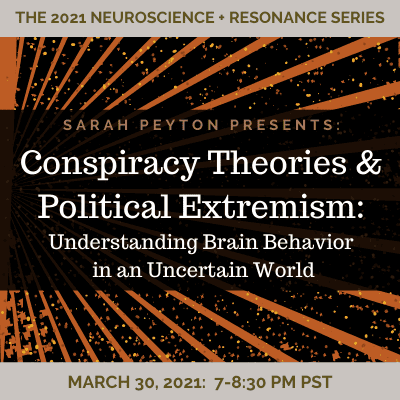 Conspiracy Theories and Political Extremism: Understanding Brain Behavior in an Uncertain World
March 30, 2021 @ 7:00 pm

-

8:30 pm

PDT

Cost: $20.00
What is happening in our brains when conspiracy theories and political extremism become satisfying? What do we know about the political brain and how the current world situation affects us? Knowing our own brains and understanding the brains of others brings us patience and compassion in a world that is rife with violence and oppression.
Join Sarah to discover what we know and how to leverage our new knowledge.
This pre-recorded webinar includes 90 minutes of content followed by some Q&A.
Purchase includes access to the recording + slides, including research citations when relevant.
This webinar was part of Sarah's 2021 Neuroscience and Resonance monthly series. Purchase access to the full series for all of the webinars at a discounted price.
$20 drop-in for the webinar, or register for the entire 2021 Neuroscience and Resonance Webinar Series
here
.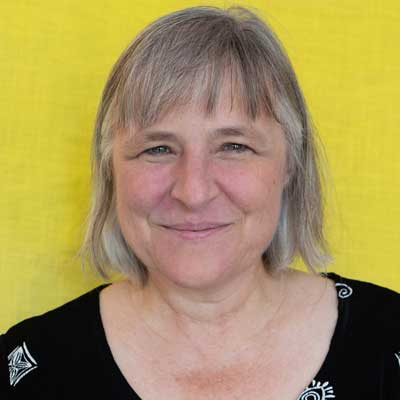 Sarah Peyton, CNVC Certified Trainer, author and neuroscience educator offers trainings focused on learning and using resonant language to transform the brain and heal trauma.
Sarah has a particular interest in the way human brains respond to power differentials and microaggressions, the social trauma that can result, and how to use resonant healing to support people in restoring dignity and reclaiming their full power.
She teaches and lectures internationally. Her latest book, Your Resonant Self: Guided Meditations and Exercises to Engage Your Brain's Capacity for Healing will be followed in 2021 with a companion workbook focused on Unconscious Contracts through the lens of the Your Resonant Self neuroscience concepts.