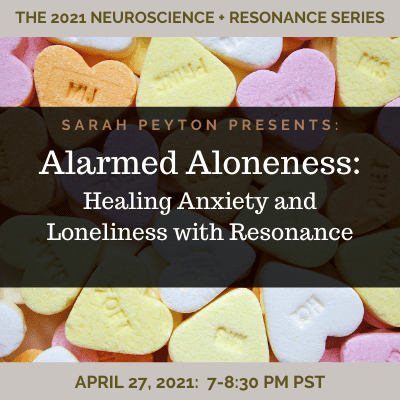 Alarmed Aloneness: Healing Anxiety and Loneliness with Resonance
April 27, 2021 @ 7:00 pm

-

8:30 pm

PDT

Cost: $20.00
One of the most common unnamed conditions in humans is Alarmed Aloneness, especially in western capitalist cultures that value and encourage self-sufficiency and hyper-individualism. For many people, this experience begins in childhood and, because what is unnamed for our bodies persists until it is known and resonated with, loneliness can continue for decades.
During the restricted living conditions of the 2020 pandemic in North America, Alarmed Aloneness has become even more widespread, and includes both the hunger for emotional connection and the "skin hunger" for touch and body warmth. The more we learn about our bodies and our brains as we deal with loneliness, the more we know about how to take care of ourselves with warmth and compassion.
In this 90-minute session, we'll learn, accompany ourselves and take away resources for self-warmth.
This pre-recorded webinar includes 90 minutes of content followed by some Q&A.
Purchase includes access to the recording + slides, including research citations when relevant.
This webinar was part of Sarah's 2021 Neuroscience and Resonance monthly series. Purchase access to the full series for all of the webinars at a discounted price.
$20 drop-in for the webinar, or register for the entire 2021 Neuroscience and Resonance Webinar Series
here
.
Sarah Peyton, CNVC Certified Trainer and neuroscience educator, integrates brain science and the use of resonant language  to heal trauma. She brings together depth work and self-compassion that integrate relational neuroscience with the transformative potential of resonant language. 
Sarah teaches and lectures internationally, and is the
author of the book "Your Resonant Self: Guided Meditations
and Exercises to Engage Your Brain's Capacity for Healing," published by Norton Publishing in September of 2017.