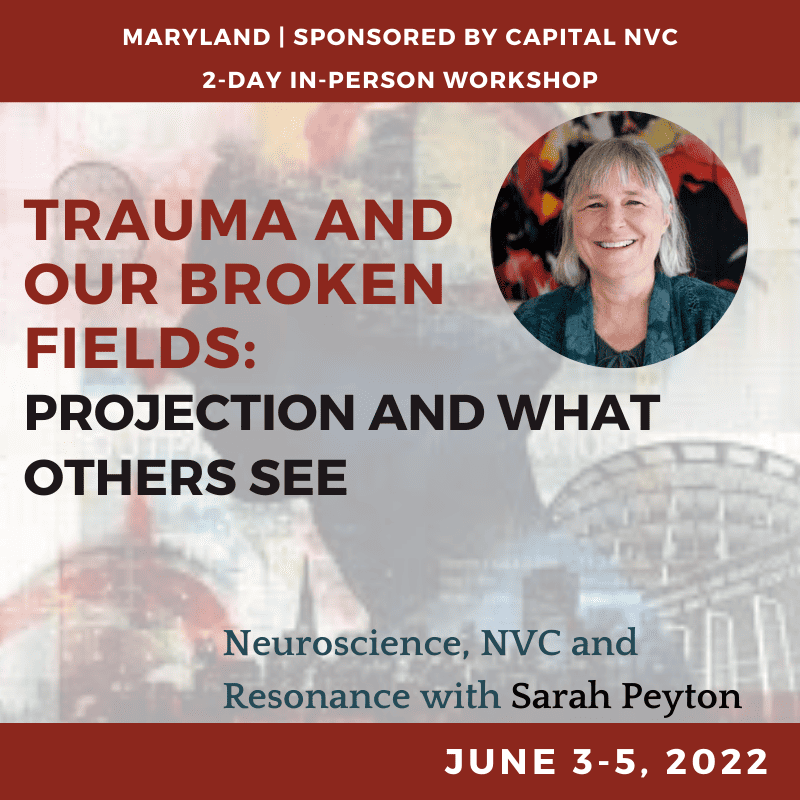 Trauma and Our Broken Fields: Projection and What Others See – In-Person Workshop with Sarah Peyton
June 3, 2022 @ 6:00 pm

-

June 5, 2022 @ 4:00 pm

PDT

Cost: $375 – $525
Do you ever notice yourself reacting to people in surprising ways or seeing something that isn't there? Or wondering what others are seeing in us and why are they reacting to us the way they do? What exactly is projection? And how is it protecting ourselves or others? What role does trauma play in all this?
Where?
This 2-day in-person workshop will be at Wellspring Conference Center in Germantown, MD, north of Washington, D.C.  Check-in begins the night before on June 3.
When?
This event is an in-person* intensive that stretches over 3 calendar days. There is dinner at 6 pm and a check with all the participants on the night of June 3rd. The workshop will run 9am-5pm on Saturday with 1.5 hours for lunch.  There will be an optional group constellation offered in the evening after dinner on Saturday.  On Sunday, the workshop will run from 8:30am-4pm, again for 1.5 hours for lunch.
What To Expect:
Each day we alternate between short lectures on neuroscience and constellation concepts with smaller group and dyad work to explore and practice the concepts.  This workshop will include an evening constellation exploration on the first day of the workshop. If you're a visual learner you can imagine small islands of didactic learning, surrounded by slightly larger islands of small-group learning, and then interspersed with large, full-group work.
Neuroscience, NVC empathy and resonance let us enter the world of our relational shadows with more self-compassion and understanding. Join relational neuroscience educator Sarah Peyton for two days of in-person exploration to discover what relational neuroscience teaches us about projection and how to leverage our new knowledge.
Who Is This Event For?
For beginners to advanced practitioners of Nonviolent communication. Those looking for personal healing, as well as those who work in healing professions, are welcome.
Policy of Care
please send a copy of your vaccination card when you register
be prepared to show a negative COVID test within 72 hours of attending and/or bring a self-test to do on-site
mask indoors/ optional outdoors
no active cold symptoms
Please note:
This work is not therapy and is not a substitute for therapy.
Program tuition is offered on a sliding scale:
$525 sustainer (support others with fewer resources to attend)
$475 maintainer (support Sarah and organizers sustainability)
$375 supported  tuition (discounted tuition to support your sustainability)
(please pay what is sustainable for you to offer)
Tuition covers your workshop costs, 2 days of time spent in class with Sarah, 2 nights lodging, and 6 meals.
Lodging at the Wellspring Conference Center is included.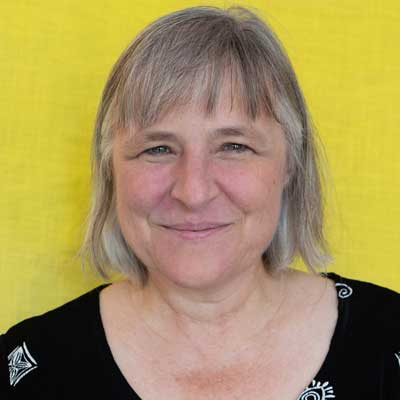 Sarah Peyton, Certified Trainer of Nonviolent Communication and neuroscience educator, integrates brain science and the use of resonant language to heal personal and collective trauma with exquisite gentleness.
Sarah is a sought-after expert who brings neuroscience expertise together with depth work, self-compassion, and the transformative potential of language. She works with audiences internationally to create a compassionate understanding of the effects of relational trauma on the brain, and teaches people how words change and heal us.
Sarah teaches and lectures internationally and is the author of four books on relational neuroscience and self-compassion: Your Resonant Self: Guided Meditations and Exercises to Engage Your Brain's Capacity for Healing, the companion Your Resonant Self Workbook: From Self-sabotage to Self-care, and Affirmations for Turbulent Times: Resonant Words to Soothe Body and Mind, and The Antiracist Heart: A Self-Compassion and Activism Handbook, co-authored alongside Roxy Manning, PhD.