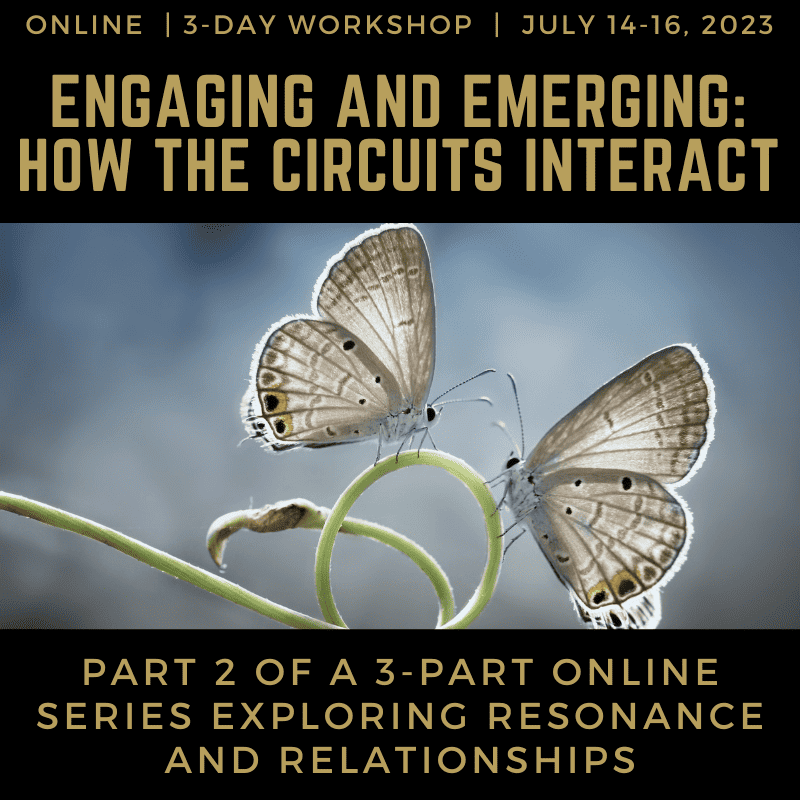 Juicy Relational Skills for Emergence Part 2: Engaging and Emerging: How the Circuits Interact
July 14 @ 5:00 pm

-

July 16 @ 3:00 pm

PDT

Cost: $650
What knowledge about the brain gives us leverage to really begin to see each other? What do we need to know about the ways that the circuits become entangled by trauma and unconscious contracts, blocking our emergence? Learn to tell the difference between instrumental and relational connections, and begin to walk the path toward more richness, meaning and intimacy. Practice resonant language in relationship, and discover your own sweetness.
This event is part 2 of a 3-part series exploring resonance and relationships, how we can use the foundational concepts of Sarah's book, Your Resonant Self, to transform relationships with those we are closest to.
This event is available as a 2-for-1 enrollment (purchase one registration and you'll be able to invite another person for free!)
You are welcome to register for any of the three individual events in the 3-part series, however, registering for the full 3-Part Immersion might be a good fit if you'd like to access the content bonuses and bonus group skill-building/practice sessions.
Where?
The course will meet via online (zoom video conference). Recordings will be made available.
When?
The schedule will be as follows (All times are in the Pacific Time zone. To convert to your time, please click here)
July 14: Friday 5-8pm
July 15: Saturday, 9-12pm, 1-3pm
July 16: Sunday 9-12pm, 1-3pm
What to Expect:
This 3-day immersion weekend will cover the following topics via lectures interspersed with experiential exercises:
The instrumental and the relational brain

The nervous system and its three states

The circuits of emotion and motivation

The amygdala and circuit entanglement 

SEXUALITY/EMERGENCE and SEEKING

SEXUALITY/EMERGENCE and PANIC/GRIEF

SEXUALITY/EMERGENCE and FEAR

SEXUALITY/EMERGENCE and RAGE

SEXUALITY/EMERGENCE and CARE, PLAY

SEXUALITY/EMERGENCE and DISGUST
Special bonus session on healing and physical intimacy:
Disentangling the SEXUALITY/EMERGENCE circuit specifically for physical intimacy

Fight/flight/alarmed aloneness in physical intimacy

Using contract work to increase ease in physical intimacy
CEUs
We are delighted to offer 14 CEU hours for psychologists and social workers for this course ($30 additional fee). CEUs are offered through Chicago Counseling Associates.  CCA has been approved by the Illinois Department of Financial and Professional Regulation to sponsor continuing education for social workers and psychologists. CCA maintains responsibility for this program and its content. Live attendance is required to receive CEUs.
This work is not therapy and is not a substitute for therapy. If you have a sense that you would be destabilized by yourself or others speaking about difficult events, then this course may not be for you. While we hope that the processes and information that we share can be of use in your journey, we do not have the resources to support extreme psychological difficulties.
Some partial scholarships may be available after July 2, please write to Sarah to inquire.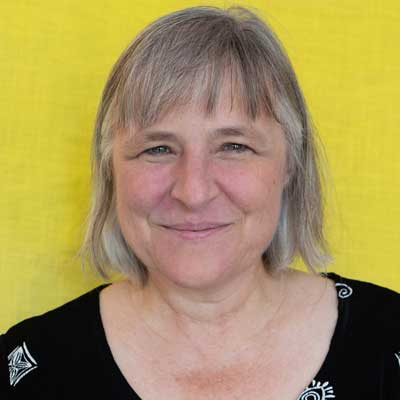 Sarah Peyton, Certified Trainer of Nonviolent Communication and neuroscience educator, integrates brain science and the use of resonant language to heal personal and collective trauma with exquisite gentleness.
Sarah is a sought-after expert who brings neuroscience expertise together with depth work, self-compassion, and the transformative potential of language. She works with audiences internationally to create a compassionate understanding of the effects of relational trauma on the brain, and teaches people how words change and heal us.
Sarah teaches and lectures internationally and is the author of four books on relational neuroscience and self-compassion: Your Resonant Self: Guided Meditations and Exercises to Engage Your Brain's Capacity for Healing, the companion Your Resonant Self Workbook: From Self-sabotage to Self-care, and Affirmations for Turbulent Times: Resonant Words to Soothe Body and Mind, and The Antiracist Heart: A Self-Compassion and Activism Handbook, co-authored alongside Roxy Manning, PhD.