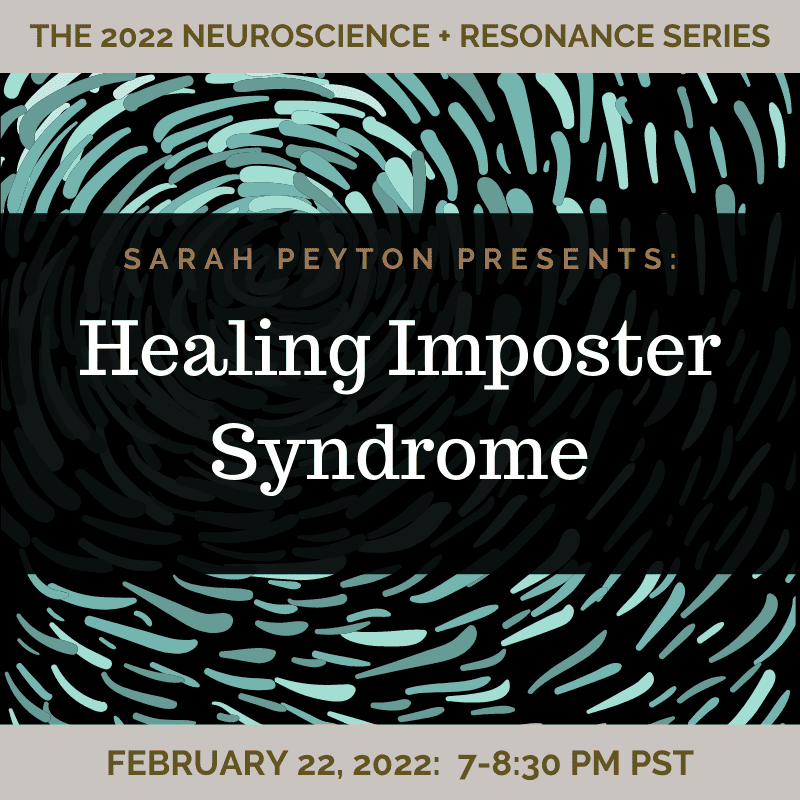 Healing Imposter Syndrome
February 22, 2022 @ 7:00 pm

-

8:30 pm

PST

Cost: $20
No matter how well you do, or how successful you are, do you often have a sneaking sense that something is wrong? That people don't really know you? That if they did actually know you, they wouldn't like you? Do you believe that you have somehow managed to fool the people who have a good opinion of you? If you have any of these experiences, you have touched what is called "Imposter Syndrome."
Join Sarah Peyton and Jaya Manske for an investigation of the research into this phenomenon and some resonant practices to bring you back to your sense of authenticity when you lose your sense of your own worth.
This is an online zoom webinar that runs for 90 minutes with an optional 30 min Q&A.
Purchase includes invitation to the live webinar and post-webinar access to access the recording + slides, including research citations when relevant.
This webinar is the February meeting of Sarah's 2022 Neuroscience and Resonance monthly series.
$20 drop-in for the webinar, or register for the entire 2022 Neuroscience and Resonance Webinar Series
here
.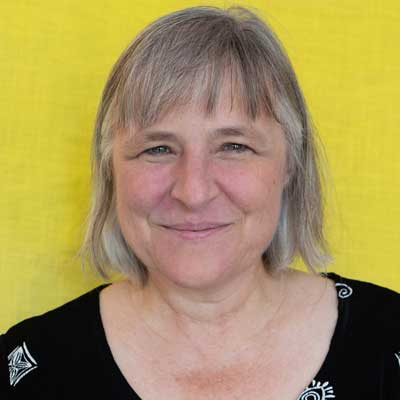 Sarah Peyton, Certified Trainer of Nonviolent Communication and neuroscience educator, integrates brain science and the use of resonant language to heal personal and collective trauma with exquisite gentleness.
Sarah is a sought-after expert who brings neuroscience expertise together with depth work, self-compassion, and the transformative potential of language. She works with audiences internationally to create a compassionate understanding of the effects of relational trauma on the brain, and teaches people how words change and heal us.
Sarah teaches and lectures internationally and is the author of four books on relational neuroscience and self-compassion: Your Resonant Self: Guided Meditations and Exercises to Engage Your Brain's Capacity for Healing, the companion Your Resonant Self Workbook: From Self-sabotage to Self-care, and Affirmations for Turbulent Times: Resonant Words to Soothe Body and Mind, and The Antiracist Heart: A Self-Compassion and Activism Handbook, co-authored alongside Roxy Manning, PhD.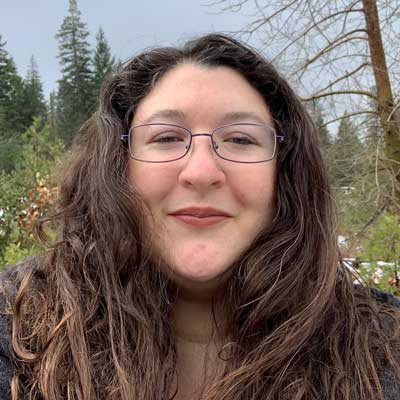 Jaya Manske is a transformative healing-centered coach and resonant healing practitioner with a passion for supporting people to cultivate kindness, compassion and gentleness for themselves and reconnect to their wholeness and mattering. She has been an empathetic practitioner since 2001 and is a member of Sarah's team.
A former educator, Jaya has an in-depth background in attachment theory and how resonance transforms our ability to be in a kinder relationship with ourselves and others.
Informed by developmental theory, relational neuroscience, and the ways trauma impacts the brain and nervous system, Jaya offers resonant empathy, unconscious contracts/sacred vow work, time travel empathy, and is a certified mindfulness and wellness coach.