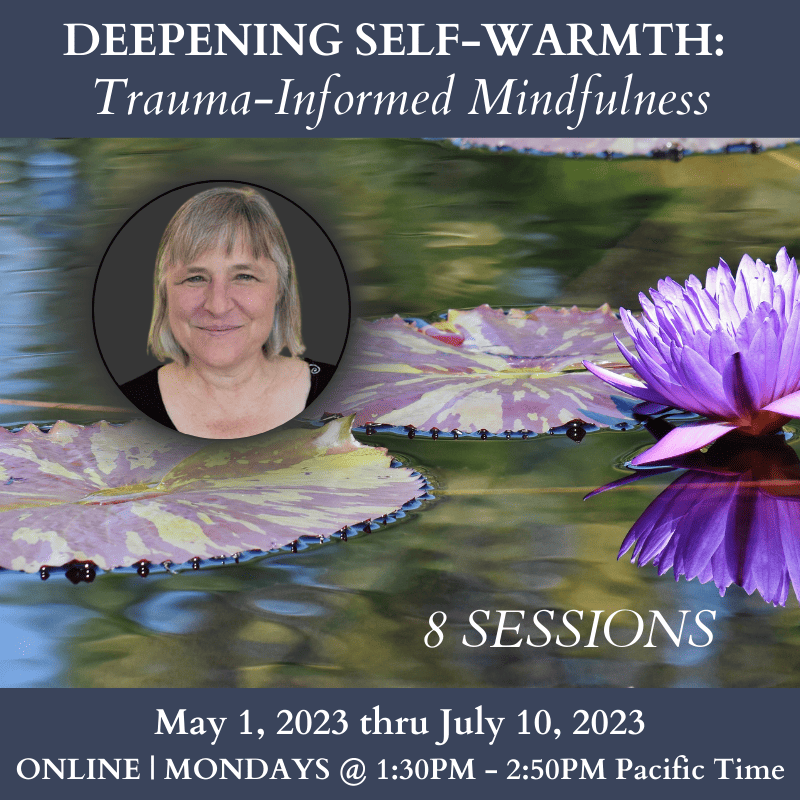 Deepening Self-Warmth: Trauma-Informed Mindfulness
May 1 @ 1:30 pm

-

July 10 @ 2:50 pm

PDT
Would you like some acknowledgment for the lacerating thoughts and difficult experiences you've had when you've tried to meditate? If this happens to you, it doesn't mean you are doing it incorrectly, or that you are bad at it, or that there is something wrong with you! Suffering from unhealed trauma changes the way brains respond to meditation and there is a way forward.  So often, meditation emphasizes focus and discipline but this only develops and supports part of the mind, not its entirety. When warmth and gentleness are included, as well as acknowledgment of why that might be difficult, a new kind of way of being with yourself becomes possible. One with more compassion for yourself and others, and one where the well-researched benefits of meditation begin to be reachable, no matter the hardships we have survived.
You are invited to this space to deepen your practice and learn with Sarah Peyton about self-warmth in meditation – with a trauma-informed, healing-centered lens. In one session, Jaya will guest teach. This special course acknowledges the unhealed trauma that has an impact on how we sit.
Each 80-minute class will include relational neuroscience and practices to support your brain being a kinder place to live. Optional participation in resonant practice partnerships outside class.
Where?
The course will meet via zoom. Recordings will be made available to those who are registered for the live program.
When?
The schedule will be as follows (All times are in the Pacific Time zone. To convert to your time, please click here):
Mondays from 1:30-2:50pm Pacific time
May 1
May 8
May 15
June 5 (Jaya Manske will guest teach this session)
June 12
June 19
June 26
July 10
What To Expect:
In this class series, participants will learn and practice moving into a resonant mindfulness practice through the following:
Explore the impact of trauma on meditation practice
Experience trauma healing
Dissolve contracts that lead to self-hate and self-criticism
Take away processes to continue to heal trauma
Have conversations with the lacerating default mode network
Learn very short, one-breath meditation exercises
Integrate the value of guided meditations
Please join Sarah Peyton and Jaya Manske who have had to travel this path themselves, to explore the movement into deepening self-warmth.  This class will be taught primarily by Sarah Peyton with Jaya Manske supporting the course. One of the sessions will be led by Jaya Manske (June 5).
Classes will include lecture and breakout sessions to build resonant mindfulness skills with increased familiarity and confidence and create opportunities for doing the healing that supports minds and nervous systems.
The classes will be recorded for participants in many time zones
Who is This Course For?
All welcome. Students, from beginners to advanced, who have been interested in building their mindfulness practice but have found that traditional meditation and approaches to mindfulness leave them bored or tortured by intrusive memories, worries, fear, shame or obsessions about their and others' well-being. Those who are suffering from unhealed trauma, and will benefit from a different way forward with the researched-backed benefits of self-resonant mindfulness.
Cost
Early bird rate $280 if paid by April 20, 2023
Regular price $320 if paid after April 20, 2023
Recordings included.
Need additional financial assistance? We will know if additional partial scholarships are available for those with circumstances that require it on April 20, 2023. Write to [email protected] on or after April 20, 2023 to inquire.
CEUs:
We are delighted to offer 10.5 CEU hours for psychologists and social workers for this course ($30 additional fee). Chicago Counseling Associates has been approved by the Illinois Department of Financial and Professional Regulation to sponsor continuing education for social workers and psychologists. CCA maintains responsibility for this program and its content. It is the participant's responsibility to check with their licensing board to determine if this programming qualifies for CEUs. Live attendance is required to receive CEUs.
*PLEASE NOTE:
In order to secure the early-bird rates, you must register and pay by the dates above.
Your tuition payment is non-refundable and transferable.
Some additional partial scholarships may be available after April 20, 2023.
This course will be recorded for those who want to learn asynchronously for some or all sessions
This work is not therapy and is not a substitute for therapy. If you have a sense that you would be destabilized by yourself or others speaking about difficult events, then this course may not be for you. While we hope that the processes and information that we share can be of use in your journey, we do not have the resources to support extreme psychological difficulties.
If you have questions or would like to discuss a payment plan or partial scholarship (after April 20, 2023), please email [email protected]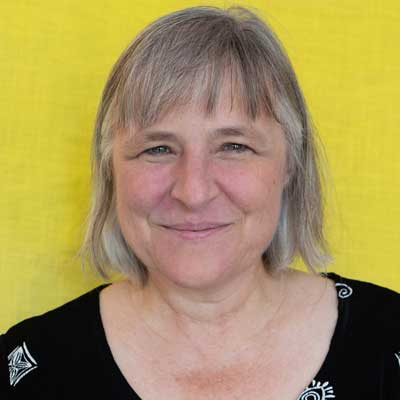 Sarah Peyton, Certified Trainer of Nonviolent Communication and neuroscience educator, integrates brain science and the use of resonant language to heal personal and collective trauma with exquisite gentleness.
Sarah is a sought-after expert who brings neuroscience expertise together with depth work, self-compassion, and the transformative potential of language. She works with audiences internationally to create a compassionate understanding of the effects of relational trauma on the brain, and teaches people how words change and heal us.
Sarah teaches and lectures internationally and is the author of four books on relational neuroscience and self-compassion: Your Resonant Self: Guided Meditations and Exercises to Engage Your Brain's Capacity for Healing, the companion Your Resonant Self Workbook: From Self-sabotage to Self-care, and Affirmations for Turbulent Times: Resonant Words to Soothe Body and Mind, and The Antiracist Heart: A Self-Compassion and Activism Handbook, co-authored alongside Roxy Manning, PhD.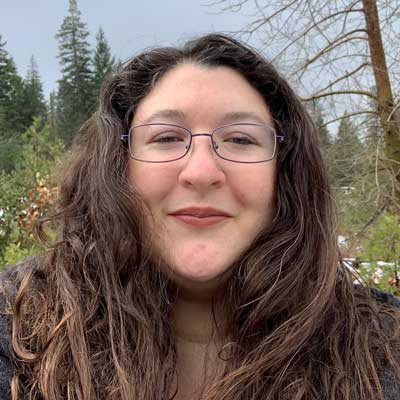 Jaya Manske is a transformative healing-centered coach and resonant healing practitioner with a passion for supporting people to cultivate kindness, compassion and gentleness for themselves and reconnect to their wholeness and mattering. She has been an empathetic practitioner since 2001 and has an extensive background in mindfulness and meditation.
Jaya is a graduate of Naropa University with a background in developmental theory, contemplative and holistic education, contemplative art and psychology. Jaya has an in-depth background in attachment theory and how resonance transforms our ability to be in a kinder relationship with ourselves and others.
Informed by developmental theory, relational neuroscience, and the ways trauma impacts the brain and nervous system, Jaya offers resonant empathy, unconscious contracts/sacred vow work, time travel empathy, and is a certified mindfulness and wellness coach.