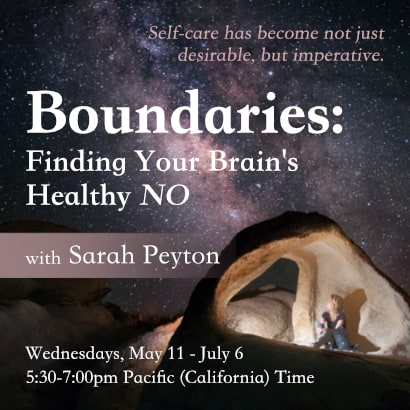 Boundaries: Finding Your Brain's Healthy No
May 11, 2022 @ 5:30 pm

-

July 6, 2022 @ 7:00 pm

PDT

Cost: $434 – $542
Do you find it difficult to stand up for yourself? Do you struggle to find the strength to say "No", and make your needs a priority?
Without healthy boundaries, it is so much harder to take care of ourselves. Claiming time and space for exercise, making healthy food, and getting the right amount of sleep can seem like climbing a mountain.
This inability to make space for yourself can leave your health and well-being compromised. Studies show that untreated trauma and stress increase the risk of serious diseases like cancer and heart disease.
A part of that effect comes from the ways that trauma and stress impact our ability to have boundaries and prioritize the self.
Self-care has become not just desirable, but imperative to our wellbeing. At the same time, many of us find it close to impossible to make time for what we need most.
In this course, Sarah Peyton will guide you on an exploration into how to know your limits and express them without having to pay more than you have in energy and shame backlashes.
Over eight impactful sessions, you will:
Discover your own patterns around boundaries
Learn the common loyalties and desires for integrity that block boundaries
Bring self-resonance and self-compassion to your patterns
Reveal and release the unconscious contracts that keep them bound
Transform hopelessness into choice and freedom
Using NVC concepts and neuroscience, Sarah will help you discover the life-changing power of healthy boundaries and finding your brain's healthy No!
Where?
The course will meet via zoom. Video and audio recordings will be made available.
When?
All times listed are Los Angeles (PDT) time.
This course will meet Wednesday, May 11 – July 6 (except June 15)
5:30pm – 7:00pm Pacific Time To convert to your time, please click here
In this transformational course, you will:
Discover the life-changing power of the word No
Learn what is blocking your boundaries
Make self-care a priority again
Release unconscious contracts that keep old patterns alive
Who is This Event For?
For nonviolent communication beginners and long-time practitioners, all are welcome.
Bonuses:
Video and audio recordings of every session
Forum discussion available in the classroom
Lifetime access to the classroom
*PLEASE NOTE:
This work is not therapy and is not a substitute for therapy. If you have a sense that you would be destabilized by yourself or others speaking about difficult events, then this course may not be for you. While we hope that the processes and information that we share can be of use in your journey, we do not have the resources to support extreme psychological difficulties.
$542 
NVC Library Members 20% Discount – $434 
NVC Library Members receive an additional 20% discount

enter coupon code NVCL at time of checkout
Read more about the program here.
WHAT HAPPENS AFTER I REGISTER?
When you register, you will receive an email with complete instructions on how to access the videoconference. All registrants will receive access to all recordings.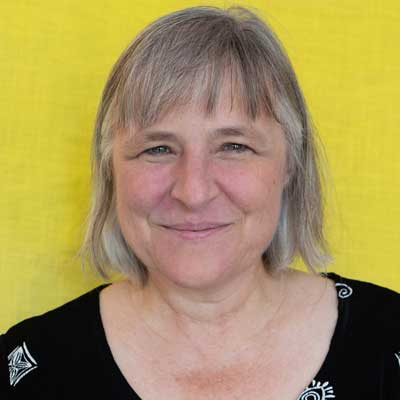 Sarah Peyton, Certified Trainer of Nonviolent Communication and neuroscience educator, integrates brain science and the use of resonant language to heal personal and collective trauma with exquisite gentleness.
Sarah is a sought-after expert who brings neuroscience expertise together with depth work, self-compassion, and the transformative potential of language. She works with audiences internationally to create a compassionate understanding of the effects of relational trauma on the brain, and teaches people how words change and heal us.
Sarah teaches and lectures internationally and is the author of four books on relational neuroscience and self-compassion: Your Resonant Self: Guided Meditations and Exercises to Engage Your Brain's Capacity for Healing, the companion Your Resonant Self Workbook: From Self-sabotage to Self-care, and Affirmations for Turbulent Times: Resonant Words to Soothe Body and Mind, and The Antiracist Heart: A Self-Compassion and Activism Handbook, co-authored alongside Roxy Manning, PhD.