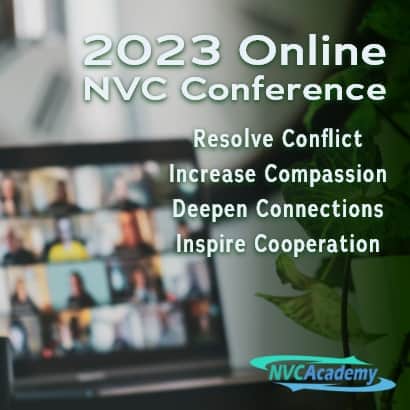 2023 Online NVC Conference
February 17 @ 4:00 pm

-

February 19 @ 6:00 pm

PST

Cost: $75 – $250
Resolve Conflict. Increase Compassion.
Deepen Connections. Inspire Cooperation.
Looking to strengthen your communication skills to be able to live life more fully with greater ease and enjoyment? Join Sarah Peyton and trainers from around the world for the 16th Annual NVC Conference hosted online for the fourth time by the NVC Academy, the online world-wide hub for learning NVC concepts.. This is a full weekend of enriching workshops with trainers from across the world.
Learn and practice skills to communicate better at home, work, and school. Gain tools to listen with ease and care, speak with clarity, act with integrity, and inspire cooperation. Find others who share your passion for communication to support your ongoing practice.
Sarah Peyton will be presenting on two topics:
Depression-Proofing Ourselves and Our Loved Ones
Do you ever lose energy and find it difficult to survive your days? Does life ever lose color and flavor? Might these experiences be depression? How can we use our NVC and a knowledge of neuroscience to prevent and address such experiences?

• Discover the power of resonance
• Engage with attunement and being changed by each other
• Explore empathy for our metabolic exhaustion

What are the Deep Needs Behind Boredom?
When we are children, we are told that boredom is good, and that creativity comes out of boredom, but among adults, boredom is the most commonly cited root of addiction. How can we understand boredom in new ways using neuroscience and Nonviolent Communication?

• Explore the neuroscience of boredom
• Discover the needs behind boredom
• Find movements toward meaning and self-compassion
In one weekend, you can expect to experience 24 sessions from 14 experienced, engaging trainers including:
Aya Caspi
Eric Huang
Jim Manske
Jori Manske
Lori DeLaney
Lorraine Aguilar
Magiarí Díaz Díaz

Mary Mackenzie
Morris H. Ervin, Jr
Rodger Sorrow
Roxy Manning
Sarah Peyton
Yuri Haasz
Yvette Erasmus
In addition to Sarah's offerings and the offerings of several other trainers, four of the sessions (by other trainers) will be presented in Spanish with simultaneous English translation. Two sessions (by other trainers will be presented in English with simultaneous Spanish translation.
Visit NVC Academy to see the full lineup!
Come make some new friends, expand your support system, and gain NVC skills for every area of your life. This is the perfect opportunity to stay in touch with your NVC community and favorite trainers without leaving your home! There is a reason that this event has been going on for so many years… Because it is always a fun, enlivening, and memorable time!
Get ready to walk away with skills for conflict resolution and collaboration AND discover a deeper connection with yourself through acceptance, curiosity, and compassion.
Speak. Listen. Connect. Thrive.
Bonuses:
When you register you will also receive:
Video and audio recordings of every session
Forum discussion available in the classroom
Lifetime access to the classroom
Direct messaging with the trainers
Translated captions available in live sessions (Chinese (Simplified)(Beta), Dutch, French, German, Italian, Japanese (Beta), Korean (Beta), Portuguese, Russian, Spanish, and Ukrainian)
Where?
This year's conference will be held online via Zoom so you can attend, learn, and practice from the safety and comfort of your home.
When?
Friday, February 17 • 6:00pm – 8:00pm Pacific (California) Time
Saturday, February 18 •

9:00am – 6:30pm Pacific (California) Time

Sunday, February 19 •

9:00am – 4:00pm Pacific (California) Time
You can also enrich your experience with the community room which will be open daily before, during, and after each session. The community room offers space to gather in community, seek and offer empathic support, play games, continue session discussions, and so much more. Join us and help our NVC Conference community to thrive!
In addition, there are opening sessions and end-of-the-day harvest sessions with the full community. Opening sessions provide an opportunity for the trainers to share their session descriptions and intentions, and for the full community to gather briefly. Harvest sessions are a space where we can share celebrations and mournings. This highly valued time supports connection and community.
See NVC Academy for full details!
What to Expect
This event will be held online with offerings to choose from. Anything you are unable to attend live will be recorded and provided to you for lifetime access.  To view the full list of topics covered and trainers, please visit the event page here.
Who is This Event For?
All skill levels are welcome! This NVC conference is an opportunity to learn and practice skills to communicate better at home, work, and school. Gain tools to listen with ease and care, speak with clarity, act with integrity, and inspire cooperation. Find others who share your passion for communication to support your ongoing practice.
NVC Academy is delighted to offer a Spanish track featuring six sessions, that will be available in Spanish and English, so we can all learn together, even if we speak different languages.
Supporting Others to Attend: $250 (Supports sustainability and increases accessibility)
Sustainability for our trainers, NVC Conference and NVC Academy: $150 (Supports the trainers and NVC Academy to continue offering courses)
Installment Payments: Make 2 payments of $75 if registered by February 17
Increased Accessibility: $75 (Supports easier access; if additional discounts are needed please make your request here)
What Happens After I Register?
When you register, you will receive an email with complete instructions on how to access the NVC Conference.
Note that conference recordings display images of active speakers only, and are made available to all registrants.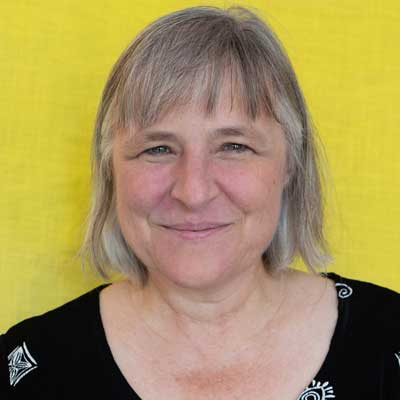 Sarah Peyton, Certified Trainer of Nonviolent Communication and neuroscience educator, integrates brain science and the use of resonant language to heal personal and collective trauma with exquisite gentleness.
Sarah is a sought-after expert who brings neuroscience expertise together with depth work, self-compassion, and the transformative potential of language. She works with audiences internationally to create a compassionate understanding of the effects of relational trauma on the brain, and teaches people how words change and heal us.
Sarah teaches and lectures internationally and is the author of four books on relational neuroscience and self-compassion: Your Resonant Self: Guided Meditations and Exercises to Engage Your Brain's Capacity for Healing, the companion Your Resonant Self Workbook: From Self-sabotage to Self-care, and Affirmations for Turbulent Times: Resonant Words to Soothe Body and Mind, and The Antiracist Heart: A Self-Compassion and Activism Handbook, co-authored alongside Roxy Manning, PhD.