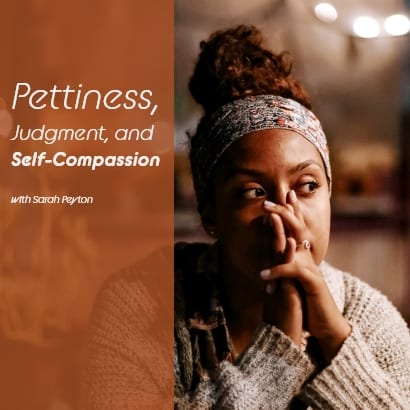 Pettiness, Judgment, and Self-Compassion: an 8-Week Series
September 25 @ 11:00 am

-

November 20 @ 12:30 pm

PDT

Cost: $434 – $542
"How could he have done that?" 
"She really made a bad decision there!" 
Sometimes you may feel spite, pettiness, or judgment… and then judge yourself for your position.
Do you ever judge yourself more harshly than you ever judge others? Do you worry that your pain is too small? Do you tell yourself that the things that you worry about or feel upset about are petty or meaningless? Come to this course to learn to celebrate your pettiness with Sarah. She'll teach you why we sometimes get a sense of pleasure from another person's misfortune, and the importance of the need for balance. And she'll touch on the neuroscience of judgment to help you understand what's going on in your brain, and lead you gently toward the relief and satisfaction of self-accompaniment and self-compassion.
What would it be like if you were able to fully accompany yourself with warmth and understanding, no matter how you felt? 
What is the relational neuroscience of "What empathy is not?"
Would it be against your NVC integrity to be warm with yourself, or would it take you toward Marshall Rosenberg's recommendation that you celebrate your jackal?
Join Sarah Peyton on an 8-week journey to start making your brain a more welcoming place to live for the rest of your life.
You will have the opportunity to:
Learn the relational neuroscience of judgment
Experience meeting judgment with resonance
Explore a celebration of pettiness
Practice self-resonance for spite
Discover the internal world of contempt
By the end of this course, you will be able to integrate empathy for your jackal and strengthen your self-compassion in any situation!
Deepen Self-Compassion in Difficult Moments
When?
Mondays, September 25-November 20, 2023 (eight sessions)
11:00am-12:30pm Pacific (California) Time. Convert to your time zone here
Bonuses
Video and audio recordings of every session
Forum discussion available in the classroom
Lifetime access to the classroom
This Course Includes Resonant Support
Get assistant support during classes – experience resonant support from experienced practitioners when you need it during class times.  Often, this work can have unexpected depth and touch on deeply held subconscious awareness and pain.  Getting support when we need it most helps participants to integrate, regulate, and have a felt experience of the transformative power of resonance.
Here's what a previous participant shared about having assistant support available during courses:
"Thank you so much for offering the in-class 1:1 support with a resonance assistant as part of the course. This opportunity has gone a long way to provide me with a personalized felt sense of the impact of this process when working with a trained and skilled person to a greater depth than I had experienced on my own. Such a gift." ~ Dorothy
*PLEASE NOTE:
This work is not therapy and is not a substitute for therapy. If you have a sense that you would be destabilized by yourself or others speaking about difficult events, then this course may not be for you. While we hope that the processes and information that we share can be of use in your journey, we do not have the resources to support extreme psychological difficulties.
Early Bird 20% discount: $434 until September 4, 2023 ($542 after)
NVC Library members: $347 until September 4, 2023 ($434 after)
To get the NVC library discount, enter coupon code NVCL at checkout.
Make 4 payments of $115 if registered by September 4, 2023.
read more about the event here
WHAT HAPPENS AFTER I REGISTER?
When you register, you will receive an email with complete instructions on how to access the videoconference. All registrants will receive access to all recordings. Recordings will display images of active speakers only.
This event is organized by NVC Academy. If you have questions specific to price and registration reach out to [email protected].  Questions about if this course is for you? Reach out to [email protected]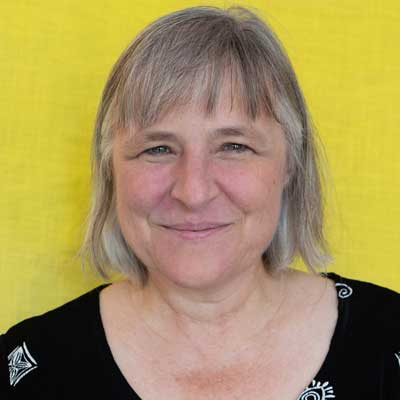 Sarah Peyton, Certified Trainer of Nonviolent Communication and neuroscience educator, integrates brain science and the use of resonant language to heal personal and collective trauma with exquisite gentleness.
Sarah is a sought-after expert who brings neuroscience expertise together with depth work, self-compassion, and the transformative potential of language. She works with audiences internationally to create a compassionate understanding of the effects of relational trauma on the brain, and teaches people how words change and heal us.
Sarah teaches and lectures internationally and is the author of four books on relational neuroscience and self-compassion: Your Resonant Self: Guided Meditations and Exercises to Engage Your Brain's Capacity for Healing, the companion Your Resonant Self Workbook: From Self-sabotage to Self-care, and Affirmations for Turbulent Times: Resonant Words to Soothe Body and Mind, and The Antiracist Heart: A Self-Compassion and Activism Handbook, co-authored alongside Roxy Manning, PhD.