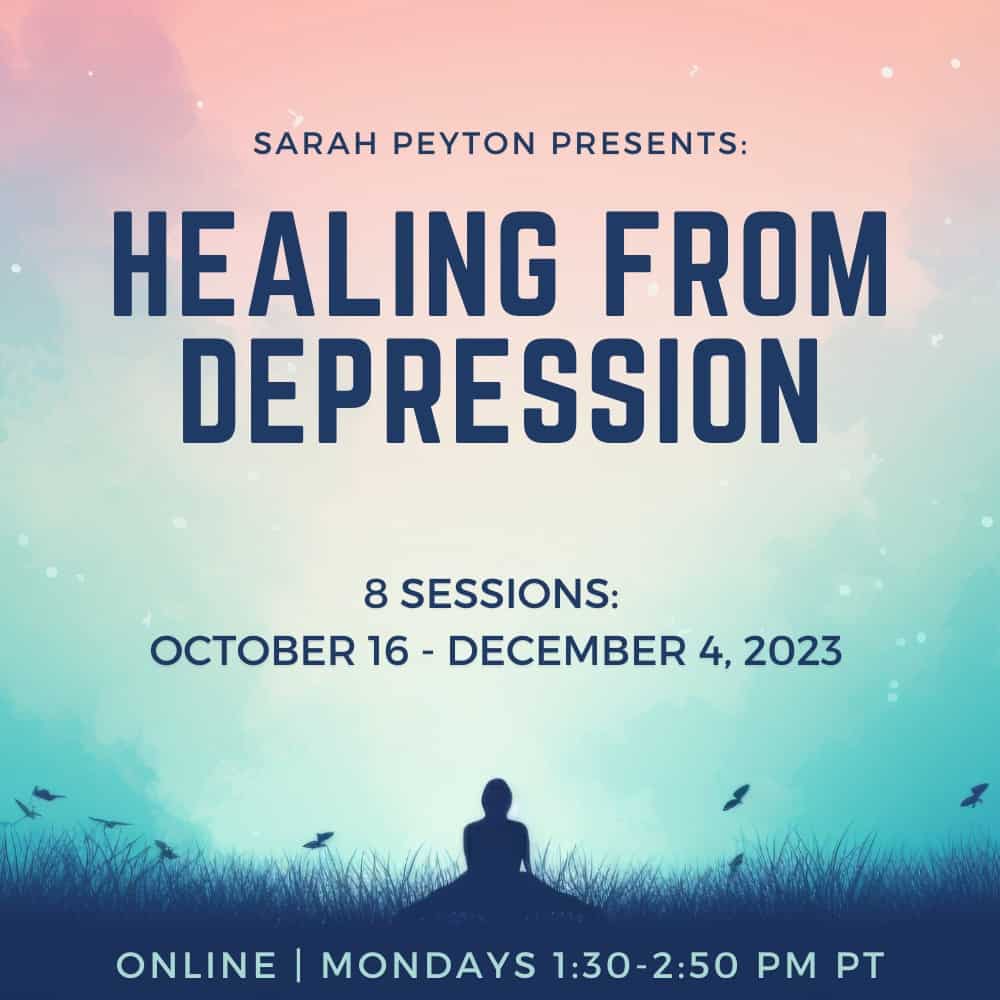 Healing from Depression: An 8-Week Live Online Class
October 16 @ 1:30 pm

-

December 4 @ 2:50 pm

PDT

Cost: $315 – $370
Loneliness is deeply harmful for human bodies, and too many of us have felt too alone for too long. What we call "depression" is our nervous system's strategy to protect us from an underlying immobilization that is so vast that, if left unchecked, it would destroy us. For many of us, an unknown layer of "alarmed aloneness" lurks in the very foundation of our being. Alarmed aloneness is the alarm state of our nervous system living without a sense that anyone else is really there for us.
The way that we bring our bodies out of the protective state of depression is by soothing and nurturing our underlying aloneness out of alarm and into connection.
This is a radical new way of understanding depression, and we have seen these concepts and practices change people's lives in the most beautiful, and hopeful, of ways.
In this eight week workshop, Sarah Peyton will work gently with depression and alarmed aloneness, introducing these neuroscience concepts and practicing resonant language exercises to try to reach and nourish the neurons that have been impacted by these adverse experiences. Participants will be guided through Resonant Healing processes of unconscious contracts and time travel in order to learn more about what keeps us from finding our way out of depression once we're in it, and to touch and accompany our extended emotional states of alarmed aloneness. Mid-way through the course, we'll shift gears into a deep exploration of our circuits of emotion and motivation, paying specific attention to the relationship between depression and our SEEKING circuit, RAGE circuit, and CARE circuit.
The work done in this course has the power to help participants create a solid foundation of self-compassion from which they can continue to accompany themselves on their healing journey.
Where?
The course will meet via zoom. Recordings will be made available to those who are registered for the live program.
When?
The schedule will be as follows (All times are in the Pacific Time zone. To convert to your time, please click here):
This 8-Session series runs from Monday, October 16 – Monday, December 4th, 2023 and meets at 1:30 -2:50 pm Pacific Time. Classes meet on Oct. 16, Oct. 23, Oct. 30, Nov. 6, Nov. 13, Nov. 20, Nov. 27, and Dec. 4th.
What you'll learn in this course:
Class 1: Alarmed Aloneness and Depression
Class 2: Meeting our Alarmed Aloneness
Class 3: Unconscious Contracts that keep us Depressed
Class 4: Extended Emotional States and Time Travel
Class 5: The Seeking Circuit
Class 6: Rage
Class 7: Left and Right hemispheres of the brain
Class 8: Bringing the Care circuit on line.
Who is this course for?
All welcome. Students, from beginners to advanced, who are interested to work more deeply with, and heal from, their depression.
If you are brand new to resonance, time-travel and unconscious contracts that's OK! Our assistants can help you get into the right break-out rooms to practice with others who are newer to this work, and we offer many demonstrations for learning and skill-building opportunities within this healing space.
This course is for those whose nervous systems are often in a state of alarmed aloneness, and will benefit from a different way forward with the researched-backed benefits of time-travel rescue and Sarah's work on Unconscious Contracts, which is the heart of her second book, the Your Resonant Self Workbook.
Cost
Early-bird: $315 if registered and paid by October 2nd, 2023.
Regular price: $370 if registered and paid October 3rd and afterward. Recordings included.
Partial scholarships may be available after October 3rd; please write our team to inquire.
CEUs:
We are delighted to offer 10 CEU hours for psychologists and social workers for this course ($30 additional fee). Chicago Counseling Associates has been approved by the Illinois Department of Financial and Professional Regulation to sponsor continuing education for social workers and psychologists. CCA maintains responsibility for this program and its content. It is the participant's responsibility to check with their licensing board to determine if this programming qualifies for CEUs. Live attendance is required to receive CEUs.
*PLEASE NOTE:
In order to secure the early-bird rates, you must register and pay by the dates above.
Your tuition payment is non-refundable and transferable.
Some partial scholarships may be available after October 3, 2023
This course will be recorded for those who want to learn asynchronously for some or all sessions
This work is not therapy and is not a substitute for therapy. If you have a sense that you would be destabilized by you or others speaking about difficult events, then this course may not be for you. While we hope that the processes and information that we share can be of use in your journey, we do not have the resources to support extreme psychological difficulties.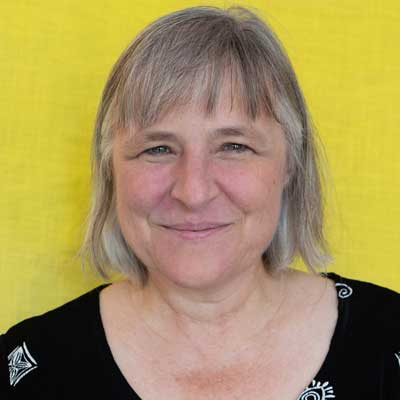 Sarah Peyton, Certified Trainer of Nonviolent Communication and neuroscience educator, integrates brain science and the use of resonant language to heal personal and collective trauma with exquisite gentleness.
Sarah is a sought-after expert who brings neuroscience expertise together with depth work, self-compassion, and the transformative potential of language. She works with audiences internationally to create a compassionate understanding of the effects of relational trauma on the brain, and teaches people how words change and heal us.
Sarah teaches and lectures internationally and is the author of four books on relational neuroscience and self-compassion: Your Resonant Self: Guided Meditations and Exercises to Engage Your Brain's Capacity for Healing, the companion Your Resonant Self Workbook: From Self-sabotage to Self-care, and Affirmations for Turbulent Times: Resonant Words to Soothe Body and Mind, and The Antiracist Heart: A Self-Compassion and Activism Handbook, co-authored alongside Roxy Manning, PhD.