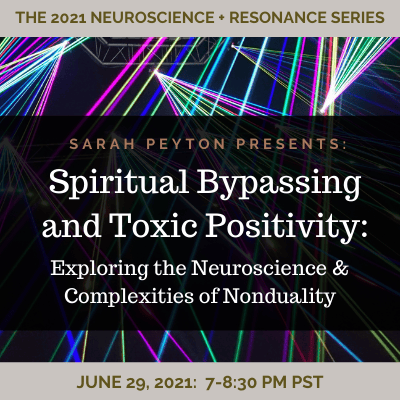 Spiritual Bypassing and Toxic Positivity: The Neuroscience and Complexity of Nonduality
June 29, 2021 @ 7:00 pm

-

8:30 pm

PDT

Cost: $20.00
The purpose of many spiritual and contemplative practices is to invite our brains into direct experience with the divine. How is it possible that this innocent pursuit could actually have negative consequences for our relationships with others and with ourselves? And what about having a positive outlook – could that actually have a negative impact?
When spiritual practice is used to sidestep real-world challenges and unrest, whether internal or external, and when we advocate the use of positive thinking to mask injustice and genuine challenges, we are entering the territory of spiritual bypassing and toxic positivity.
In this webinar, we will look at the brain benefits and the drawbacks of positivity and connection with the divine. We will leverage the research to understand how both approaches can help us and draw us ever closer to a mystical relationship with paradox, and we'll explore how holding paradox can join us even more intimately with others and to something greater than self.
This pre-recorded webinar includes 90 minutes of content followed by some Q&A.
Purchase includes access to the recording + slides, including research citations when relevant.
This webinar was part of Sarah's 2021 Neuroscience and Resonance monthly series. Purchase access to the full series for all of the webinars at a discounted price.
$20 drop-in for the webinar, or register for the entire 2021 Neuroscience and Resonance Webinar Series
here
.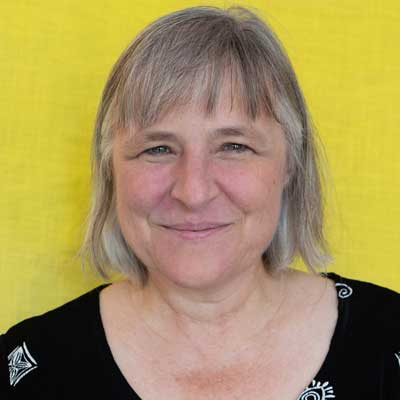 Sarah Peyton, CNVC Certified Trainer, author and neuroscience educator offers trainings focused on learning and using resonant language to transform the brain and heal trauma with exquisite gentleness and self-warmth.
Sarah speaks about both the personal and the systemic forces that lead to traumatization. She has a particular interest in the way human brains respond to power differentials and microaggressions, the social trauma that can result, and how to use resonant healing to support people in restoring dignity and reclaiming their full power. 
Sarah teaches and lectures internationally and is the author of four books on relational neuroscience and self-compassion: Your Resonant Self: Guided Meditations and Exercises to Engage Your Brain's Capacity for Healing, the companion Your Resonant Self Workbook: From Self-sabotage to Self-care, and Affirmations for Turbulent Times: Resonant Words to Soothe Body and Mind, and The Antiracist Heart: A Self-Compassion and Activism Handbook, co-authored alongside Roxy Manning, PhD.